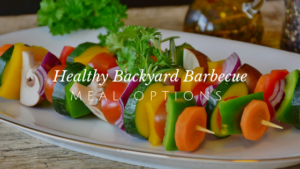 Dining outside on a warm summer night is one of my favorite parts of the season — from picnics at the park to big backyard barbecue gatherings, many memories are made as we gather around a table to enjoy a meal alfresco.
Unfortunately, much of what we put out on the grill isn't so good for us.  If you're looking to host an outdoor barbecue with healthier options than the typical hot dogs, hamburgers, and ribs — take a look below for some tasty yet healthy suggestions.
Marinated grilled chicken or tofu
Undeniably, grilled chicken/tofu is a healthy choice.  All you need is a great marinade, and you're all set. With so many different marinades to choose from and various herbs to combine for different flavors, you won't get bored with this option.
Grilled veggie sandwiches
Even if you regularly fill your plate with veggies, nothing stands out better than the grilled variety. Grab Portobello mushrooms, zucchini, eggplant, and bell peppers and roast them over the open flame. A little misting of olive oil will keep them from sticking without making them soggy. Then, top them on whole grain wrap or bun for a satisfying meal.
Turkey or Veggie Burgers
Instead of ground beef, make your burgers with ground turkey.  They taste much lighter and won't leave you dragging afterward.  Or you can opt for a veggie burger if you want a meat-free option.  Homemade black bean burgers are a big hit in my house!
Fajita kabobs
Take your love of fajitas outdoors by skewering marinated peppers and onions.  If you're a meat eater, add some grilled chicken to your skewers.  Add a little fajitas seasoning, and you'll have a feisty barbecue dish that brings all the flavor while being kind to your health.
Grilled watermelon
Watermelon is a summer barbecue staple. And while it's already good for you, tossing slices of it onto your grill is a game-changer for the palate. No one will need a sugary dessert with a treat this good.
Grilled fish
Fresh fish on the grill evokes images of an island vacation. No matter where you live, you can make your own version of paradise by taking fish, wrapping it with veggies like asparagus in foil packets, and throwing it atop the flames. The best part is you can use any fish you like, though the fresher, the better. Try salmon, mahi-mahi, tilapia, or tuna.
Cauliflower steaks on the grill
Cauliflower…is there anything it can't do? When sliced into thick steaks, you can marinate it and grill it. Like Portobello mushrooms, it has a very meaty quality while being 100% plant-based and perfect for any meatless guests.
Shrimp Skewers
And finally, I'd love to remind you that shrimp on the barbie not only tastes fantastic but is also a healthy barbecue dish for your summer shindigs. Marinate them, skewer them, put them on the grill, and enjoy!
What's your favorite backyard bbq dish?  I'm always excited to try something new!
If you want extra help with getting on a healthy diet, our epigenetic eating plan is perfect just for YOU!  Give us a call and we can get your personalized eating plan!
Dr Jackie